The situation in the player transfer market can change quickly, especially towards the deadline or end of the transfer window. Clubs can lose players unexpectedly and struggle to find replacements.
This was experienced by FC Barcelona regarding their player Ousmane Dembele. Although Sergi Roberto and the coach, Xavi Hernandez, were confident that Dembele would eventually leave Camp Nou.
The French winger will soon join the rich French club, Paris Saint-Germain (PSG). Les Parisiens, coached by former Barcelona coach Luis Enrique, will buy Dembele for 50 million euros.
"Clarity (transfer) Dembele. PSG did not activate Ousmane's LaLiga buyout clause of 50 million euros – it's over and now has a price of 100 million euros," said Fabrizio Romano.
"By sending an official letter to Barca, PSG activated the 'privacy' clause. That makes Dembele available at the same price, 50 million euros. By the end of this week the deal will be over."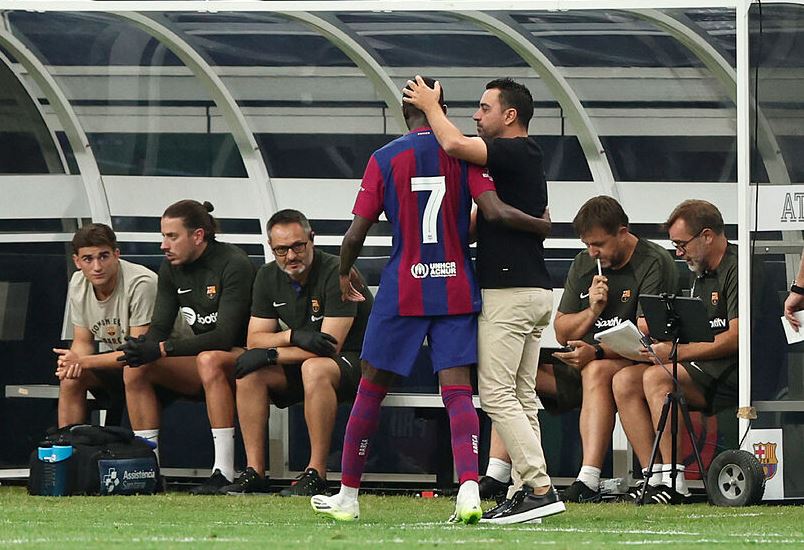 The news came as a surprise to Barcelona, especially as the 26-year-old had already signed a new contract in 2022. Barcelona trust him to continue playing in the first team, because he has the quality to make a difference. Naturally, Xavi was disappointed with him.
"I will explain very clearly, he has said he wants to leave, he has a proposal from PSG and we cannot do anything," explained Xavi about Dembele, quoted by Football-Espana.
"It leaves a bitter taste in my mouth because we have taken care of him so that he is happy here. Yes, I am a little disappointed. We can't compete with the proposal they made to him, it's out of our reach."
Xavi also explained the offer from PSG that Barcelona could not refuse, while competing to convince Dembele to stay. Nevertheless, Xavi did not expect Dembele to leave this summer.
"It was easy. He came to me with a proposal from PSG. Said that he wanted to leave, that he had spoken with Luis Enrique, with Nasser (Al-Khelaifi, PSG President) and had a proposal that we could not fight," added Xavi.
"We've asked him why and he hasn't been able to answer. I get the feeling that it's going to be something personal. Disappointed? Yes. The important thing is that this is clear. I wish him all the best."
"He seemed very happy to me, I didn't expect it. That's the market. Anyone who doesn't want to be at Barca, you have to let them go," he explained.
Barcelona have also prepared and anticipated Dembele's departure. The income from his sale can be used to recruit other players. Currently Barcelona has only recruited three players, namely Ilkay Gundogan, Inigo Martinez and Oriol Romeu.
"Dembele's loss weakened us, but we were ready for this scenario and we knew that the clause could happen. We have to strengthen the team," added Xavi.
"The objectives haven't changed. You have to go for all that. But I've already said that I think we have to strengthen ourselves. We're all aligned (on that), not because I'm sending a message now at a press conference," he explained.